Data Storage Virtualization Systems
Datacore - virtualization of data storage systems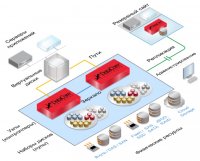 SANsymphony-V is a distinct hypervisor for data repositories, transforming the classic set of autonomous systems and storage resources into a modern universal, consolidated and unified working environment.
What's that?
Investment protection: savings on geries, savings on licences for CCC equipment, savings on training and equipment, increased life expectancy of outdated systems.
A significant increase in productivity through the functions associated with hanging at the virtual CCB node level.
Optimizing the use of aggregate data storage capacity.
The centralization and harmonization of the management of storage resources, the separation of ties and the removal of related restrictions.
Implementation of business continuity, including through a catastrophic solution.
Removing the need for breaks due to regular or unintended tasks of servicing, reconfiguration, modernization, correcting errors, etc.
Major benefits
1. Freedom of choice of equipment using the virtualization of storage resources through DataCore. In fact, all that is needed to build a virtual SCB and ensure continuous accessibility is two physical or virtual servers managed by the Windows Server 2008 R2 or 2012, where SANsymphony-V will operate. The facility (control) of this virtual CNDD may, without restrictions, be used as a " source " to generate virtual hard drives by many types of storage, their ranges and combinations:
Internal control server reservoirs, simple disc shelves (JBOD), RAID Massives, DAS and connected via SAN SCB;
SATA, SAS, SSD, PCIe-SSD;
ISCSI, FC, FCoE, SAS;
SCB from virtually any producer, the main purpose of the storage device is to support the operation of the Windows Server OS.
Using SANsymphony-V, the customer can consolidate the resources of the various storage systems: inherited, new, multiplied and incompatible. SANsymphony-V provides an opportunity to build the capacity of CCBs by combining equipment from different manufacturers; to select options based on the requirements of the current tasks rather than the requirements imposed by the producer ' s decision; not to be bound by the limitations of a specific hardware solution; to conduct data migration between different levels and incompatible systems freely and transparently for applications. This approach significantly reduces the cost of implementation, ownership and infrastructure development Data storage♪
Related posts: